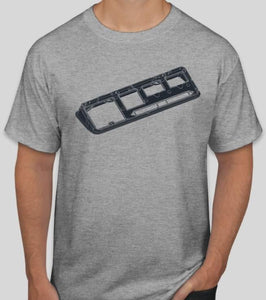 This is a gray shirt with black screen printed ink depicting a blank control panel used to build the sides of Han in Carbonite.
The ink I'm using is called discharge which replaces the dye in the fabric so it's extremely smooth and soft. It's not the type of shirt that has that plasticy ink feel where the design is on the shirt. The design is *in* the shirt. I assure you this will be one of the most comfy shirts you own, and will last for a long time.
These will be light grey Next Level 3600 brand shirts. Check here for a sizing guide.
Shirts will start shipping at the first week of November. An order with this item in it may delay shipping until all items are ready to ship.
Discount pricing ends when orders start shipping.  This run is in production and only a few shirts are left in stock.